Advent Wreaths
Vera Timoney visited some of our classes to help explain to our pupils the meaning of Advent and the Advent Wreath.
Advent is a Latin word that means "coming." In the Christian church, Advent is a time of preparation and waiting for the birth or coming of Jesus. Advent officially begins four Sundays before Christmas. This year advent starts on the 2nd of December.
An Advent wreath typically consists of greenery with four candles, three purple and one pink. Each candle on the Advent Wreath has a specific meaning.
The 1st purple candle represents hope. It is often called the prophets' candle.
The 2nd purple candle represents peace. It is often called the angel's candle.
The 3rd candle is pink and represents joy. It is often called the shepherds' candle.
The 4th candle is purple and represents love. It is often called the Bethlehem candle.
Many advent wreaths also include a Christ candle in the middle of the wreath. To celebrate with an Advent wreath, you light a candle on each Sunday of Advent.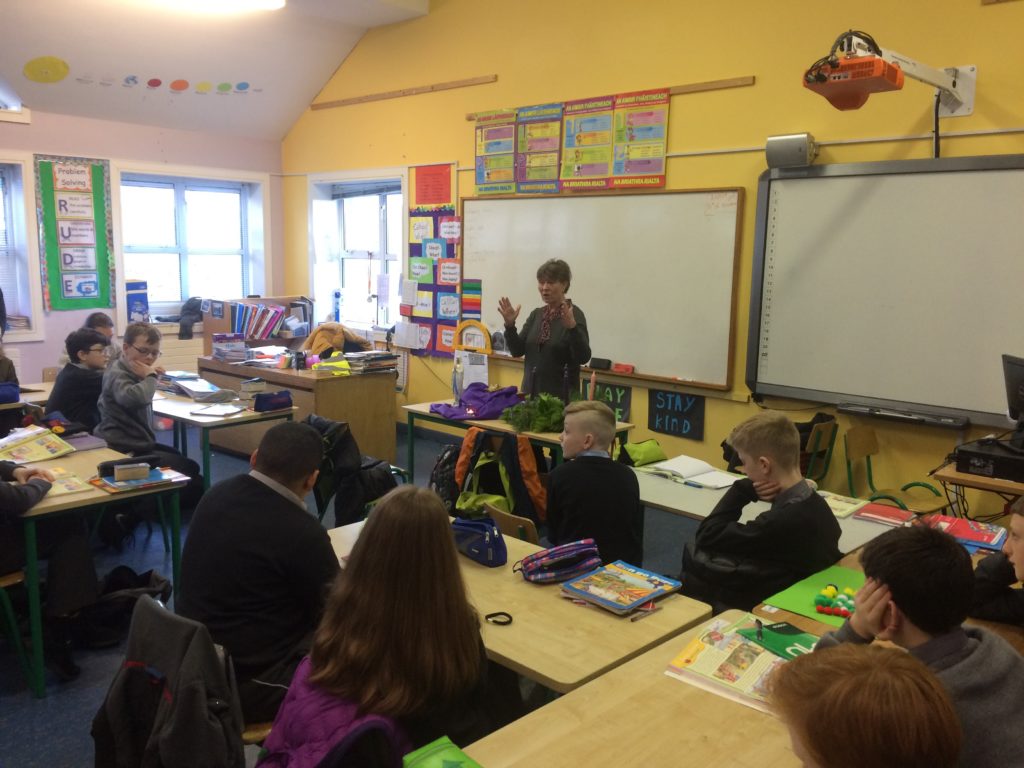 5th Class project- 
The Countries of the E.U.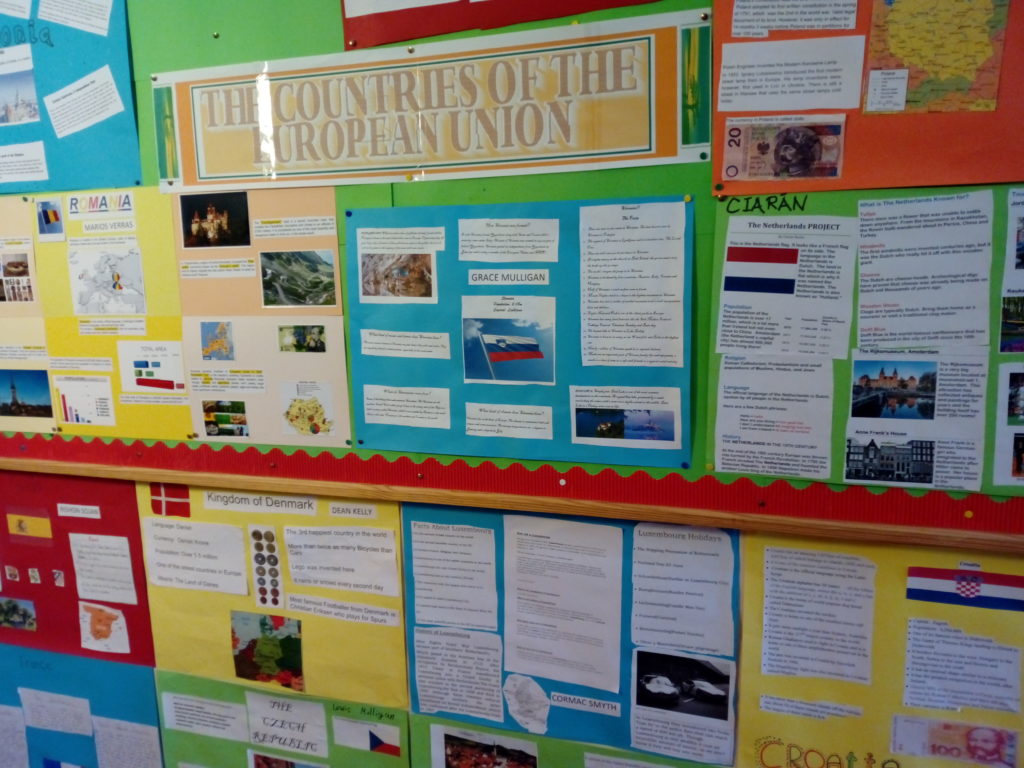 Hurling
Congratulations to our hurling team who had a great win over local rivals Scoil Colmcille, Lettetkenny. Our boys proved themselves to be too strong for their Letterkenny neighbours. Our team went on to play Carndonagh in a county final. While we didn't win, our buys put in a great performance on the day. Their coach, Ms Molloy, was very proud of their great efforts and commended the boys for their excellent behaviour during training sessions and on the field of play. Pictured are our team with coach, Ms Molloy and her assistant, Mr McFadden.
Donegal Oil Foundation Presentation
We are grateful to Arthur McMahon from the Donegal Oil Foundation and Gavin and Yvonne Boal from Pinehill Industrial Estate for a donation of €1,000 worth of Physical Education equipment to our school. Our 5th class pupils heard all about Arthur's Race Across America. His trip raised funds for various local groups in Donegal. Gavin and Yvonne hosted the Donegal Vintage Car Show in support of the foundation. The equipment provided will be put to greet use during PE lessons. Thank you to all involved.
School Book Fair
Thank you to everyone who helped organise our Annual School Book Fair. especially Ms Ferry and Ms O'Donnell. Our pupils enjoyed browsing through the books on display and some pupils purchased greats reads. Reading for pleasure is a great pastime and improves children's reading and comprehension skills. Reading to young children improves their language skills, supports their pre-reading development and instills a love of reading. We would encourage all our pupils to join the library on Main Street, Lettetkenny, and become regular visitors.
Donegal 7s Blitz .
Picture below are the boys and girls who competed in the recent Donegal 7s Blitz in Ballyare.
Science Week 2018.
4th class recently attended a Naturally Wild Workshop in Letterkenny library as part of Science Week 2018. Dale Threadwell hosted the event and covered everything from insects that live throughout your garden and the important work they do, to huge dinosaurs that once roamed the planet. Ireland's native animals were also an important feature of his talk.