GAA at Illistrin National School
Gaelic football is promoted throughout the year at Illistrin National School. It is structured in a manner which optimises the level of fun, friendship, fair play and achievement derived by all students. There are various competitions that students take part in throughout the year which includes the Letterkenny and District Gaelic Football League, Cumann na MBunscol County Competition and the Indoor 5-aside Gaelic football competitions. The students who participate in Gaelic Football train twice weekly from September at lunch time with their coaches Mr. C Gallagher, Mr Mac Mathuna and Mr Kenny. An internal school league also takes place in October. The school league is run in a blitz format over several weeks thus ensuring that students improve their basic skills.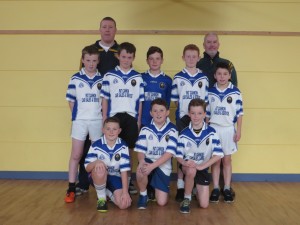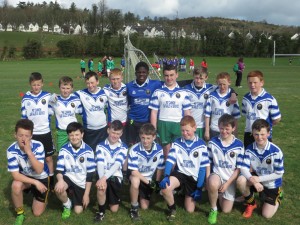 There have been some fantastic achievements over the past number of years which include winning the County Championship in 2015 for the first time and reaching the County Final in 2016. Both the boys and girls teams were also successful in winning the Letterkenny and District League in 2015. Overall we are trying to promote, teach and grow youth Gaelic Football in a manner whereby, students train and play in a safe, supportive and stimulating environment and are encouraged to risk error, to learn and to derive maximum enjoyment from their involvement.
Scoil Naomh Fiachra Football Team
Pictured below are the Scoil Naomh Fiachra Football team who played on Wednesday at Letterkenny Gaels GAA Pitch, Páirc na nGael, in the Letterkenny & District Schools Gaelic Football League.

Gaelic Football Coaching
Mr Jim Clarke, our Gaelic Football coach, is back with us again this year. Jim has started his coaching with 4th classes. During the year every class will get the opportunity to avail of Jim's coaching. We are grateful to St Eunan's GAA club for providing this coaching free of charge to our pupils.
Gaelic Football Team
Pictured below are the boys on the Gaelic Football Team who have won the title of 'Star Trainers' from their recent training sessions held twice a week at lunch times. Two students are picked at each training session for the title. Congratulations to all the students particpating.