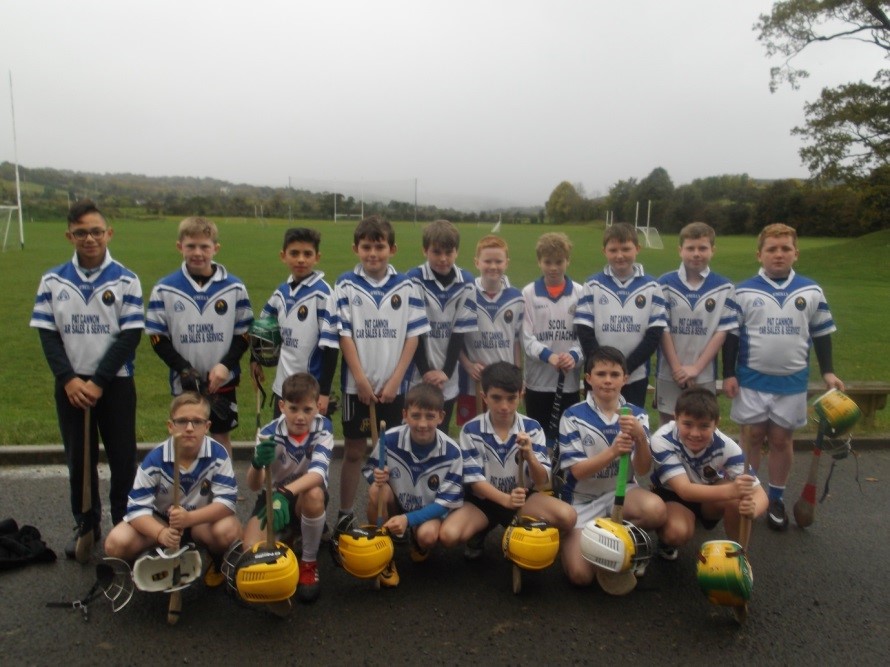 On Tuesday 10th of October, the school's hurling and camogie teams headed off to O' Donnell Park to participate in the 2017 annual Cumann na mBunscol competition. Both teams had been training hard under the guidance of Martin McGrath (Donegal County Board-Hurling Facilitator), Mrs. Phillips, Mrs. Larkin and Ms. Molloy.
The boys displayed an overall ethos of teamwork; each player gave it their all, displaying talent and pure determination. This fine display of teamwork by the boys was rewarded by some great scores and results, beating the Gaelscoile, also beating Scoile Cholmcille, which led to a fierce final battle between our school and Woodlands, the winners who would represent our region in the Cumann na mBunscol final. Unfortunately, it was not to be our day, Woodlands proved to be the better team in the end. Our boys did everything they could and not one of the team ever gave up. Ms. Molloy was so impressed, she said, "that she had never seen such a display of team work, with such a never give up attitude and all the team read every move with such skill. "She was unbelievably proud of us.
The players who performed exceptionally well on the day were noted by all the coaches. On the boys team ,their captain, Donal Farrelly was unreal ,such a talented hurler ,joined in mid-field by the speedy Jack Harkin, Ben Winters was such a  strong force on the backline and also Thomas Roche, an amazing forward on the day.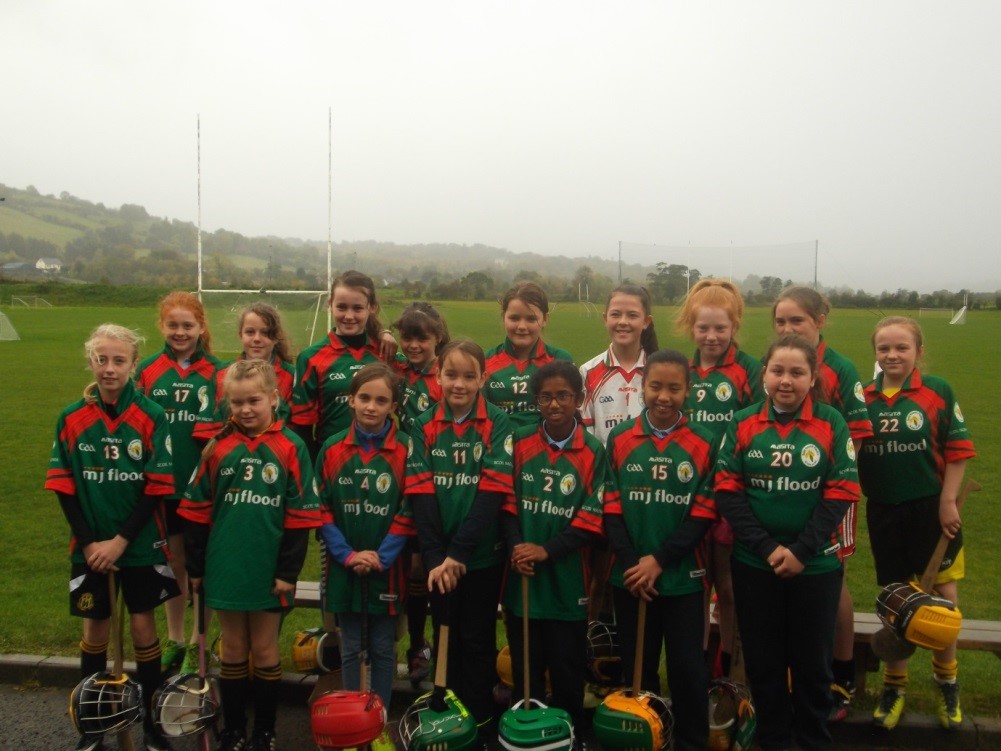 The girls played against Gaelscoil  Adhamhnain and Woodlands, they all played with great skill and determination beating the  Gaelscoil and narrowly losing to Woodlands. On the girls' team, the following girls also stood out on the day, Leanne Mc Gettigan who covered every corner of the field, Erica Gallagher who made some brilliant saves, Katelyn Doherty who displayed great leadership in mid-field. Well done to all our players and coaches and especially our 5th class, which  was for many was  the first time they participated in a hurling /camogie match. Scoil Naomh Fiachra's future with the small ball and stick is very  bright !
Inclusive hurling/Camogie
Our school prides itself in involving all the children to partake in the most skillful game in the world. From Junior Infants up to 6th class, all the boys and girls are given the opportunity to learn these skills but also to have fun. The Letterkenny Gaels club were frequent visitors to our school in 2014/15 teaching all children of every nationality and ability on how to enjoy hurling and camogie at its best. The schools 'hurling and Camogie teams' train every week and we give responsibility to some of our sixth class to share in the coaching and managements of the school teams